Forking Delicious

  ...A long, delicious love affair with food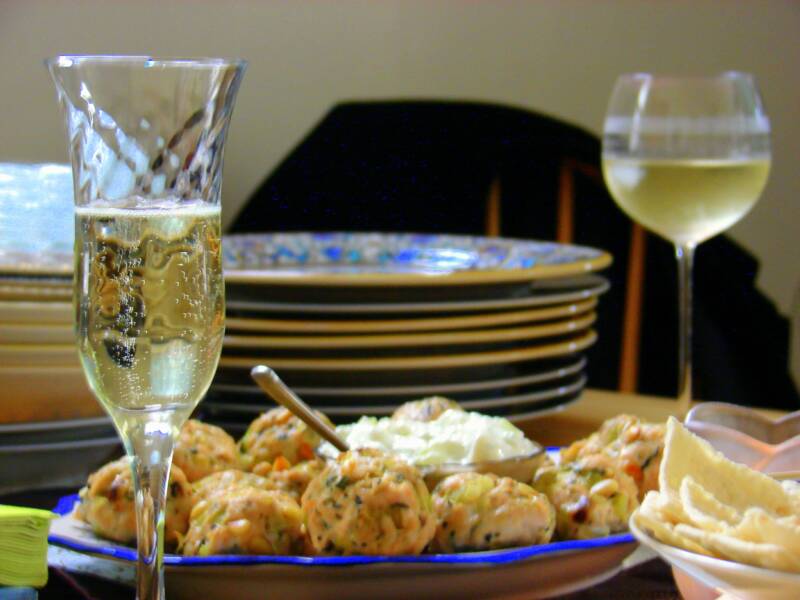 Turkey, Sage and Pinenut Meatballs

(courtesy of The Whole Foods Market Cookbook)

Try to use fresh herbs! This went well with a nice arugula blend salad and chilly white wine.

2 tsp olive oil

2 cloves garlic minced (1 tsp)

1 med onion minced

2 stalks celery minced

3 Tbsp fresh oregano (1 T dried)

1/8  cup fresh sage (1 T dried)

6 sundried tomatoes (plumped in hot water and chopped)

1 lb ground turkey (white or dark, your preference)

1/2 c pine nuts, toasted

1/2 c bread crumbs, dried

Lemon pepper, salt to taste

Heat oven to 350F. In a large pan, heat olive oil under medium heat. Saute garlic, onion, celery, & oregano for 3 minutes until tender. Place in large mixing bowl and allow to cool. 

Add remaining ingredients to bowl and mix by hand until nicely combined. Form meatballs to size of your choice and place in large baking sheet.  Bake 30 minutes for 1 1/2 inch meatballs or until turkey is cooked through. 

Serve with a tzatziki or raita.

Tzatziki

1 container of plain yogurt, preferably 2%  1 cucumber, seeded, chopped fine.

Freshly squeezed juice from 1/2 lemon

1 T chopped dill                 

1 large garlic clove, minced

Salt and pepper to taste

Drain the yogurt through a cheesecloth for about an hour to get the creamier texture. Or select a Greek style yogurt, such as Total, which doesn't need draining. 

Drain the cucumber well.  Squeezing through a cheesecloth is most effective but sometimes I just use papertowels.

Mix all of the ingredients together, altering measurements for the consistency you would prefer.  Refridgerate at least 2 hours.

This is the basic recipe for tzatziki, or raita, depending on where in the world you want to be from, and the dish it will accompany. Other ingredients to try are red onion, jalapenos peppers, turmeric, cumin, mint, fresh herbs.

The most important thing is to let it refrigerate for a while to let your flavors meld. Those flavors seem to become more pronounced even a day later!